Book release event - First Results of Waves 6 & 7
On June 25, SHARE brought together actors from research and policy in Brussels for the release of its new First Results Book.
Demographic change is one of the main challenges of Europe in the 21st century. The problems it creates are complex and can only be understood through intensive observation and analysis over time. SHARE has been created to do this observation – a multidisciplinary, cross-national and longitudinal survey that uses the "natural laboratory" of Europe to better understand the ageing process.
The new book "Health and socio-economic status over the life course" gives an overview of the first results of the new wave 6 and 7 data, which is already used by national, European and global policymakers for optimal policy design. At the book release at Palais des Academies in Brussels, speakers from the European Commission and OECD underlined the policy relevance of SHARE data.
With waves 6 and 7, SHARE has added further valuable pieces to the ageing puzzle. The two new waves drive the number of respondents and interviews to 140.000 and 380.000, respectively, while now covering all 26 continental EU member states plus Switzerland and Israel. Wave 6 deepens the objective measurement of health via biomarkers, wave 7 strengthens SHARE's longitudinal dimension by collecting life-history data in all 28 countries.
After an introduction from Beatrice Lucaroni (DG Research and Innovation, European Commission), SHARE researchers presented their work with the new data while policymakers gave insights into how they use SHARE.
Monika Queisser (Head of Social Policy at OECD) presented how the OECD analyses the data for their report "Preventing Ageing Unequally", stating: "The longitudinal and harmonized data of SHARE is essential to the OECD to help its member countries assess and design better ageing-related policies".
Katarina Ivanković-Knežević (Director Social Affairs at DG for Employment, Social Affairs and Inclusion, European Commission) explained how her Directorate-General employs SHARE data for policy analyses as well, such as in the "Pension Adequacy Report", in which the European Commission regularly assesses the member states' pensions systems. Ms. Ivanković-Knežević added: "Everyone speaks about evidence-based policymaking, and this is the core of what SHARE data provides".
The full book is available as open access here.
The next survey wave is scheduled for the fall of 2019, further adding to the richness of SHARE's dataset. The data is available to all researchers worldwide free of charge.
Apply for data access here.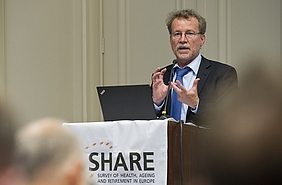 SHARE DATA
SHARE HOME