Release 8.0.0 is now available!
New data set includes SHARE Corona Survey 2
Data from the second SHARE Corona Survey are now available. The second SHARE Corona Survey re-interviewed respondents of the first SHARE Corona Survey enabling to study changes between the start of the pandemic and the situation one year later in a cross-national perspective. The questions covered physical and mental health, Corona-related infections in the personal social circle, quality of healthcare, changes in work and economic situation, social networks and internet use during the pandemic.
Further, Release 8.0.0 comes with some major data improvements: It comprises the latest state of data cleaning and harmonisation across waves, offers new Accelerometry data, including epoch-data, and covers updated special datasets like easySHARE and the Job Episodes Panel.
Researchers can download the data free of charge after registration.
Here, you can find all information about data access and data documentation.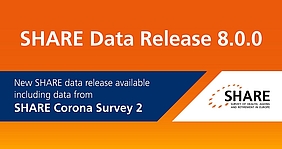 SHARE DATA
SHARE HOME